Regular: Call for Papers: Widyakala Journal Vol.8 No.2 (September 2021)
We invite scholars, researchers and academics to publish the research results in the Widyakala Journal Vol. 8, Issue 2 published in September 2021.
Widyakala opens to receive a paper with a similarity below 20% and written with IMRaD (Introduction, Methods, Results and Discussion) rules. The journal limits itself to accepting papers in the form of literature reviews. Paper with data collection/experimentation, analysis, and system design is very much expected. Papers written in English are very welcome. When submitting the paper, please also submit a signed copyright form for all the authors listed in the paper. Should you have questions, feel free to send by email to the Editor (widyakala.journal@upj.ac.id).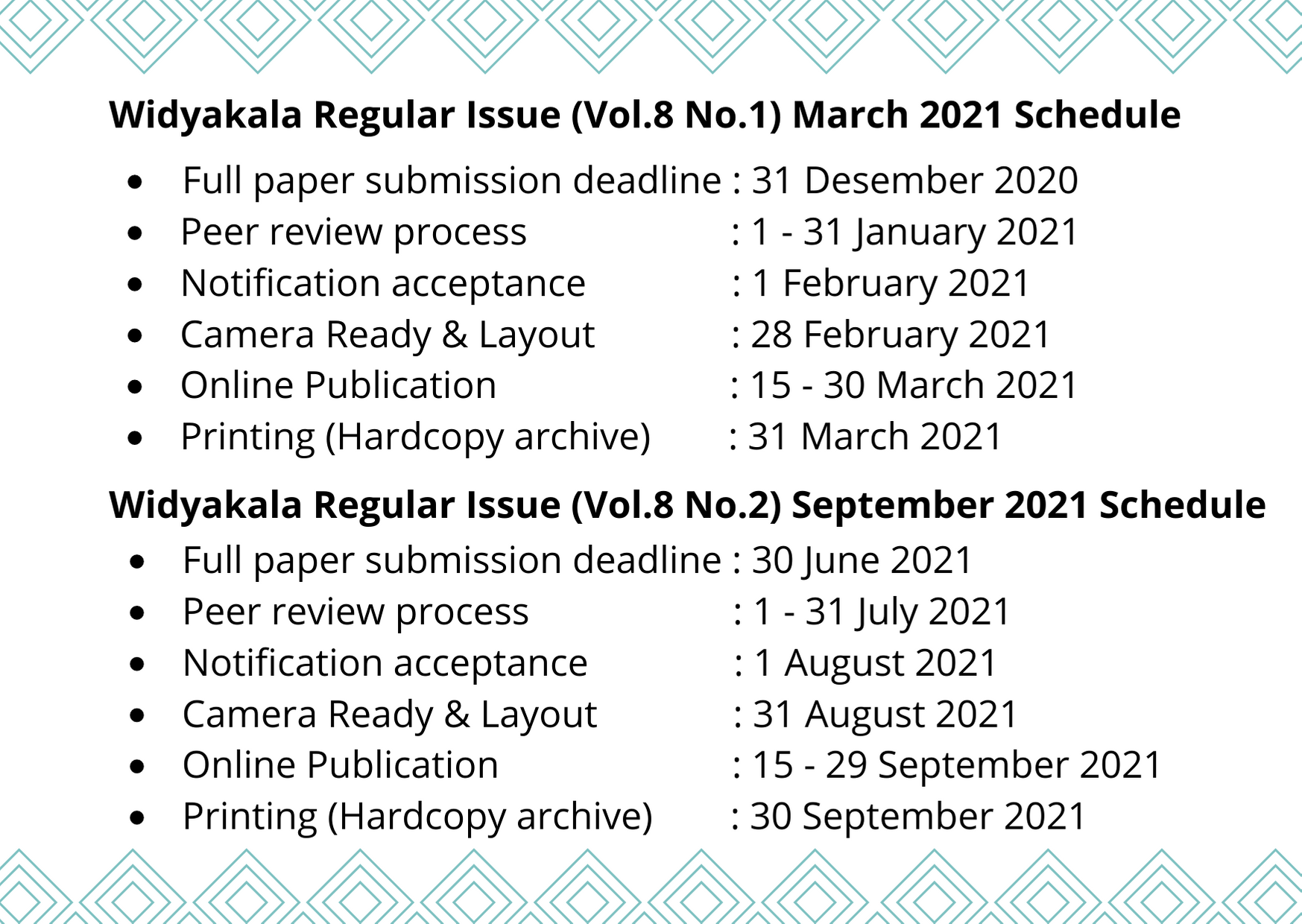 How to submit a paper to Widyakala
Register on logon to the Widyakala system (https://ojs.upj.ac.id/index.php/journal_widya/author/submit/1). The manuscript flow can be seen here.

Step 1. Starting the Submission:
Journal section: Articles
Submission Checklist: tick all (v)
Comment for the editor (optional): Write a sentence to the editor for paper submission (title, topics, etc.), and then save and continue.
Step 2. Uploading the Submission:

Submission File: upload your file in MS Word (*.docx) with the correct journal template, and then save and continue.
Step 3. Entering the Submission's Metadata
Form language: English or Bahasa Indonesia and click Submit
Authors: complete it, especially with a star (*)
Add author: input it if you have co-authors
Title and Abstract:

Title: write your paper title or copy-paste from MS word
Abstract: write your abstract or copy-paste from MS word
Contributors and Supporting Agencies: write it if your work is sponsored by agencies, for example, RISTEK DIKTI, LPPM, etc.
References: copy-paste your used references from your manuscript. This is important to appear for an indexing process. Then save and continue
Step 4. Upload supplementary file
Upload your signed copyright form here, click upload.
Step 5. Confirming the Submission
Click "Finish Submission"