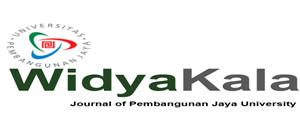 Widya Kala's scientific journal is an interdisciplinary study in ten study program at Universitas Pembangunan Jaya (UPJ) as a contribution to the three principal scientific pattern of UPJ which is also an advantage of UPJ:
1.    Humanist human development (Liberal arts)
2.    Sustainable eco-development (SED)
3.    Entrepreneurship (ENT).

The focus of the study selected by Widyakala Journal are Urban Studies and Urban Lifestyle. Articles can be based on:
1.    The results of empirical research (surveys, case studies, experiments, archival analysis, design, and historical approaches
2.    The results of theoretical studies aimed at advancing the existing theory or adapting theory to a local situation
3.    Theoretical findings with the aim of reviewing and synthesizing existing theories.
Vol 6, No 1 (2019): Urban Development & Urban Lifestyle